Start to resize the browser window!




Foresight Companies :: 2101 Chestnut Street, Chattanooga, TN 37408
© 2016, Foresight Management Development Company.
The
Management Development Process©
is a CEO sponsored development program designed to take your managers' potential, competency, and productivity to the next level.
The program combines advanced management education techniques with the latest technology and implementation coaching to maximize the learning experience and skills transfer in the workplace. Foresight customers are international and domestic companies of all sizes and types of industries. Foresight's transformational learning process converts learning into performance.
Our Work Team:
We Only Recruit the Best... Our team culture celebrates creativity, innovation, entrepreneurship, customer dedication and service and team spirit. We strive to make a difference on every person we meet...
>
We focus on developing the skills necessary to effectively succeed as managers in fast-paced, continuously changing environments and to prepare and equip them to lead their organization in the 21st Century.
The Foresight MDP provides participants the opportunity to reexamine and change deeply-rooted assumptions. It will help them recognize the limitations of habitual approaches, as well as to learn, test and implement alternate ideas and turnaround concepts; thus, building confidence by developing new positive attitudes to turn adversity into opportunity. We intensely focus on changing behaviors and addressing specific problems and solutions within your organization, rather than just dispensing information.
Our curriculum was designed around a Harvard Business School Press research publication: "Skills Managers Need to Succeed." The Foresight MDP addresses and develops each one of these skills.
Professional
Research
OUR CONSTANT PURSUIT
FOR THE BEST IDEAS...
We use the world's best resources from leading learning centers, consulting firms and our own dedicated research to assure you receive the most current information and case studies, best learning techniques, most creative practices, and the latest state-of-the-art training delivery technology.
Foresight Management
Development Process

(MDP)
A Training Process That Delivers True Positive Change.
The Foresight Management Development Process (MDP) is a world-class practical management training program that enables participants to develop resourceful solutions to managerial problems they encounter as they lead people within their organizations.
>
READ FORESIGHT MDP CASE STUDY
Latest News:
Foresight MDP signs more Companies:
- Southeastern Tool
& Design
- Tennessee Bun
Companies
- The Boyd Companies
- Masada Bakery
- Macuch Steel
Products
- Piolax USA
Latest Press Release:
Foresight Companies latest Press Release available in text or PDF format:
READ LATEST PRESS RELEASE
In The News:
Latest feature article published about Foresight by the regional business magazine The Edge.
New White Paper:
Read Foresight Case Study by Life Size Video Conferencing for the latest on our MDP presentation technology.
Most Popular Articles:
PROFITABLE ARTICLES FOR GROWING COMPANIES
The following are the most popular articles from Candido Segarra and our archives in PDF format to download:
What's Hot:
MEDIA KIT NOW AVAILABLE ONLINE!
Download our latest media resources. Foresight Press Releases, Facilitator Bios, Logos and Videos.
VISIT MEDIA KIT WEBSITE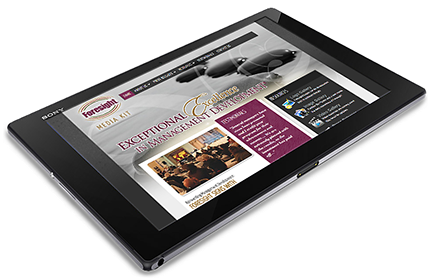 >
We can design and implement a budget-conscious, results oriented Corporate University; set up a low cost 21st century video conference training facility; or design a program specially tailored to your specific learning & development needs.
>
Contact
If you would like to hear more about our unique process, our free workshop offering,
or just to obtain more information, please do not hesitate to contact us.
ADDRESS:
FORESIGHT MANAGEMENT
DEVELOPMENT COMPANY
2101 Chestnut Street
Chattanooga, TN 37408
Customer Service:
Operations & Marketing:
Sales & Program Information:
Career Opportunities:


© 2016, Foresight Management Development Company.